This program is designed for individual learners – it can also be customized for group delivery in your organization. Contact a learning consultant for more information.
This module covers best practices when working with relational data, analyzing data through data modeling, and introduces foundational data management tools such as Structured Query Language (SQL), Docker, and Azure Data Studio (ADS). Data organization and identification, getting data that is high in integrity and low in redundancy and differentiating between the uses of Data Definition Language, Data Manipulation Language, and Data Query Language are also explored.


Entry-level data analysis roles
Any business role requiring fundamental statistical analysis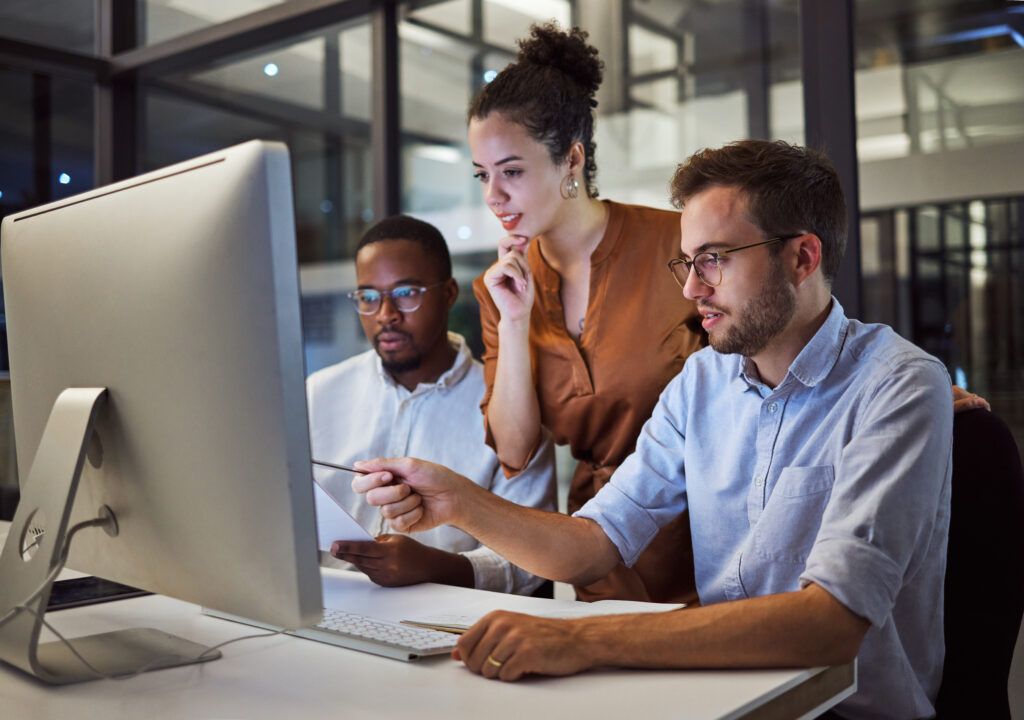 The Opportunity
Data analysis skills are no longer reserved for computer scientists and statisticians. Being able to convert data from its raw, unprocessed format into something distillable to business representatives is crucial for modern data-driven organizations because highly data-literate organizations derive the most value from their data. Organizations are looking for individuals who know how to take raw data and turn it into powerful insights that can drive success in their organization.
Program Benefits
More than half of all businesses worldwide view data analytics as a core component of their operations. By the end of this 45-hour self-paced course, users will learn to use SQL to query data, differentiate between data types and languages, use tools like Docker and Azure Data Studio, and use stored procedures, transactions, and views to enhance their SQL business skills.
With the guidance of your Rutgers Personal Learning Coach, you will have the confidence and knowledge to make significant contributions to this critical, strategic function at your current employer or prospective employer.
What You Will Learn
MODULE 1: INTRODUCTION TO DATA ANALYSIS
• Introduction to Data Analysis
• Data Analysis Types
• Data Modeling & Entity Relationship Diagrams (ERDs)
• Normalization and Denormalization

MODULE 2: DOCKER & SQL CONCEPTS AND INSTALLATIONS
• Introduction to Docker
• Docker Concepts
• Installation for SQL Server Express and Azure Data Studio
• Installation for Docker

MODULE 3: SQL FUNDAMENTALS
• Basic SQL
• Filtering and Ordering Results

MODULE 4: ADVANCED SQL
• Aggregates
• Date Handling

MODULE 5: JOINs AND SUBQUERIES
• Connecting Tables with JOINs
• Subqueries
• When to Use JOINS vs. Subqueries

MODULE 6: DATABASE CREATION AND MAINTENANCE
• Data Definition Language (DDL)
• Data Manipulation Language (DML)
• Data Query Language (DQL)

MODULE 7: SQL FOR BUSINESS
• Procedures
• Transactions
• Views
Given the busy schedules of professionals and rising executives, Rutgers has developed a powerful hybrid learning model that combines the flexible delivery of self-paced, online learning with that of a seasoned professional – a Personal Learning Coach – who serves as a learning and career guidant to mentor you through successful completion of your program and set you up for success to achieve your career aspirations.
Individualized support by industry experts: To assure your learning supports where you are and where you want to go in your career, our personalized delivery model teams you up with a learning coach who will meet with you virtually during the course of your study. In your initial meeting, you will discuss your career objectives with your personal learning coach. Over additional scheduled one-on-one virtual meetings they will discuss your questions, homework assignments, and connect your learning to your job and career to make sure you get the most from the material presented and maintain your focus on the learning goals you have set for yourself.
Project Based: You will apply the concepts you learn in a project that you can draw upon as you interview for your new role. Because the project simulates actual work duties of professionals in this field, the project offers you an opportunity to showcase the skills and competencies that employers are looking for in hiring and promoting professionals in their organizations.
Flexibility: Learn on the days of the week and times of day that fit your schedule: E-Learning is available virtually 24/7/365.
Who Should Attend
This course is designed for those who need to establish a firm foundation in data literacy and manipulation skills. Whether you have a degree in a liberal arts discipline that did not rely upon and/or develop quantitative, data, and numeracy skills or have not had much experience with these skills generally, this course will introduce you to the ground level concepts and give you the confidence to leverage data in the decision-making competences required – and expected – by employers across all industries and functional areas in organizations.
This program has been approved by the New Jersey Department of Labor for workforce training grants. Funding may be available for those receiving unemployment benefits. Contact us for more information at or by completing the Request for Information.
Why Rutgers
Earn a credential to put on your resume that showcases your skills to support career success from a trusted public institution serving the people, businesses, and government agencies in the state of New Jersey for over 250 years.
Request Information