Overview
This program is designed for individual learners but may be customized to be delivered onsite at your organization. Contact a learning consultant for more information.
According to Project Management Institute (PMI): "Demand over the next 10 years for project managers is growing faster than demand for workers in other occupations. Organizations…face risks from this talent gap."
Learn by participating in a lifelike computer simulation of a project, with all the ups and downs encountered in a real-world team project.
Manager

 

Project Manager

 

Project Coordinator

 

Program Manager

 
The Opportunity
If you are not already a Project Manager, this program can serve as an introduction to fulfilling your plan to move into a Project Manager role, and, if desired, continue on with the Rutgers Certificate in Project Management. Here's the opportunity should you pursue this path:
According to the US Bureau of Labor Statistics, as of 2020, the median base salary for a Project Manager was $77k. This project-based certificate is designed to equip you with the best practices in project management as defined by Project Management Institute (PMI). People equipped with this set of knowledge and skills are in demand across industries and in the private, public and non-profit sectors.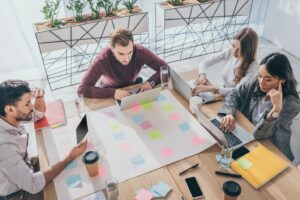 Program Benefits
"Learn by participating in a lifelike computer simulation of a project, with all the ups and downs encountered in a real-world team project.
Just as with airline pilots, the need to train, test, and prepare people to face all types of challenges in a controlled but stressful environment helps to produce eminently capable and professional talent. The system offers the simulation of a selected project encompassing all of the events that typically occur in a real-life situation: the client who insists on changing requirements; the department head who refuses to supply necessary resources; conflict in the workplace; as well as the technical difficulties which crop up at the absolutely worst times."
Testimonials
What You Will Learn
The main goal of this certificate is to enable you to develop skills and competencies that employers are looking for in the following areas:
Learn how to optimally:
Plan the resources in a project.
Use project management tools.
Run a project effectively.
Make team decisions in stressful situations.
React correctly when confronted with typical problems of project management.
Further learning benefits:
Hone skills needed to bring a project in on time, on budget, and at the appropriate quality level.
Return to work with enhanced project management skills you can apply right away
Training takes place in teams of four over two full-day sessions. Your team is confronted with numerous situations demanding quick decision-making. Learning points include not only reinforcement of basic Project Management skills but also human factors such as communication, leadership, negotiation, and conflict resolution. Some of the best learning takes place with teams composed of participants with varying skill levels from seasoned PMPs to relative novices. 
You and your teammates will find yourselves in front of the project simulator where they will be able to put into practice their respective knowledge, look for original solutions, try out new strategies and see immediate results. The system provides immediate feedback and an insightful critique for each decision the team makes. Some of the most effective adult learning comes as a result of analyzing our mistakes. The simulation permits and accelerates this process. 
You will hone skills needed to bring a project in on time, on budget, and at the appropriate quality level. Every decision made has a significant impact on every individual involved in a project. One decision may, for example, please management but de-motivate employees resulting in lower productivity, increased mistakes, and increased absenteeism or any combination of the above. 
Every participant leaves the training with enhanced project management skills which will vastly improve their job performance the minute they return to their workplace. 
Who Should Attend
Existing and future project managers who would like to improve their project management skills and knowledge, working with realistic project opportunities, obstacles and challenges in a safe, team environment.
Impact & Benefits for Participants in this Program:
Define a project upfront by writing a project charter that clearly outlines its goals
Develop a project communication plan (lack of this plan is one of the most common reasons projects fail)
Create a stakeholder analysis and engagement plan that involves key executives in a project
Break down a project into manageable activities and sequence those activities to use resources most effectively
Establish project schedules and spending plans
Learn and apply specific techniques for project risk management, including premortems
Contact us for more information at or by completing the Request for Information.
Why Rutgers
Earn a credential to put on your resume that showcases your skills to support career success from a trusted public institution serving the people, businesses, and government agencies in the state of New Jersey for over 250 years.
Request Information