Overview
This program is designed for individual learners but may be customized to be delivered onsite at your organization. Contact a learning consultant for more information.
According to Project Management Institute (PMI): "Demand over the next 10 years for project managers is growing faster than demand for workers in other occupations. Organizations…face risks from this talent gap."
Everyone is involved in projects at work. Are you not a full-time project manager but want to learn how to manage or support projects more effectively and efficiently, with greater success? This program may be for you.
Project Manager
Project Coordinator
Program Manager
The Opportunity
This program can serve as an introduction to fulfill your aspiration to move into a Project Manager role, and continue on with the Rutgers Certificate in Project Management. Here's the opportunity should you pursue this path:
According to the US Bureau of Labor Statistics, as of 2020, the median base salary for a Project Manager was $77k. This project-based certificate is designed to equip you with the best practices in project management as defined by Project Management Institute (PMI). People equipped with this set of knowledge and skills are in demand across industries and in the private, public and non-profit sectors.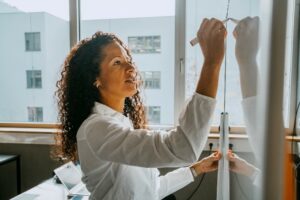 Program Benefits
With the guidance of your Rutgers Personal Learning Coach, you will have the confidence and knowledge to make significant contributions to this critical, strategic function at your current employer or prospective employer.
PMI, PMBOK, PMP, and CAPM  logos are registered marks of the Project Management Institute, Inc. It is always advisable to confirm the latest details about PMI's® certification and exam requirements at www.pmi.org.
Testimonials
My Personal Learning Coach was an amazing coach!
What I enjoyed most about the Rutgers progam was that it was self-paced. My goal was to complete it and get on with using the information as soon as possible.
My Personal Learning Coach was an excellent resource and did a great job keeping course material relevant to my specific job needs. This course does a great job of keeping information in line with the modern workplace.
An excellent job of conveying the information in a user friendly platform.
What You Will Learn
The main goal of this certificate is to enable you to develop skills and competencies that employers are looking for in the following areas:
Apply PM principles used by PM pros to effectively manage your projects
Plan your project and keep it running using simple tools
Repeat your successes from project to project
Avoid common project pitfalls
Speak in project management terms when communicating about your projects with management
Given the busy schedules of professionals and rising executives, Rutgers has developed a powerful hybrid learning model that combines the flexible delivery of self-paced, online learning with that of a seasoned professional – a Personal Learning Coach – who serves as a learning and career guidant to mentor you through successful completion of your program and set you up for success to achieve your career aspirations.
Individualized support by industry experts: To assure your learning supports where you are and where you want to go in your career, our personalized delivery model teams you up with a learning coach who will meet with you virtually during the course of your study.  In your initial meeting, you will discuss your career objectives with your personal learning coach.  Over additional scheduled one-on-one virtual meetings they will discuss your questions, homework assignments, and connect your learning to your job and career to make sure you get the most from the material presented and maintain your focus on the learning goals you have set for yourself.   
Flexibility: Learn on the days of the week and times of day that fit your schedule: E-Learning is available virtually 24/7/365. 
Who Should Attend
• Anyone who wants to optimally organize their approach to projects at work, and complete projects more effectively.
• individuals who would like to get a "taste" of Project Management before taking a more robust course or pursuing a new role as a Project Manager.
Contact us for more information at or by completing the Request for Information.
Why Rutgers
Earn a credential to put on your resume that showcases your skills to support career success from a trusted public institution serving the people, businesses, and government agencies in the state of New Jersey for over 250 years.
Request Information