A Personal Trainer for Health and Wellness = A Personal Learning Coach for your Career
When someone wants to ensure they meet their health and wellness goals, they will often enlist the services of a Personal Trainer. Individuals will invest in a Personal Trainer to provide the tools, support, accountability, education, and a personalized plan of attack that will increase the probability that they will successfully reach their health and wellness goals. A Personal Trainer evaluates their clients' current program and goals, provides motivation, pushes their clients harder, and facilitates behavioral changes that clients can embrace to sustain a healthy, active lifestyle.
Wouldn't it be great to hire a Personal Trainer to meet your career goals? Well, now you can …
… Rutgers University–Camden recognized the parallels between developing sustainable wellness behaviors and the learning that supports one's career growth – they are both lifelong pursuits.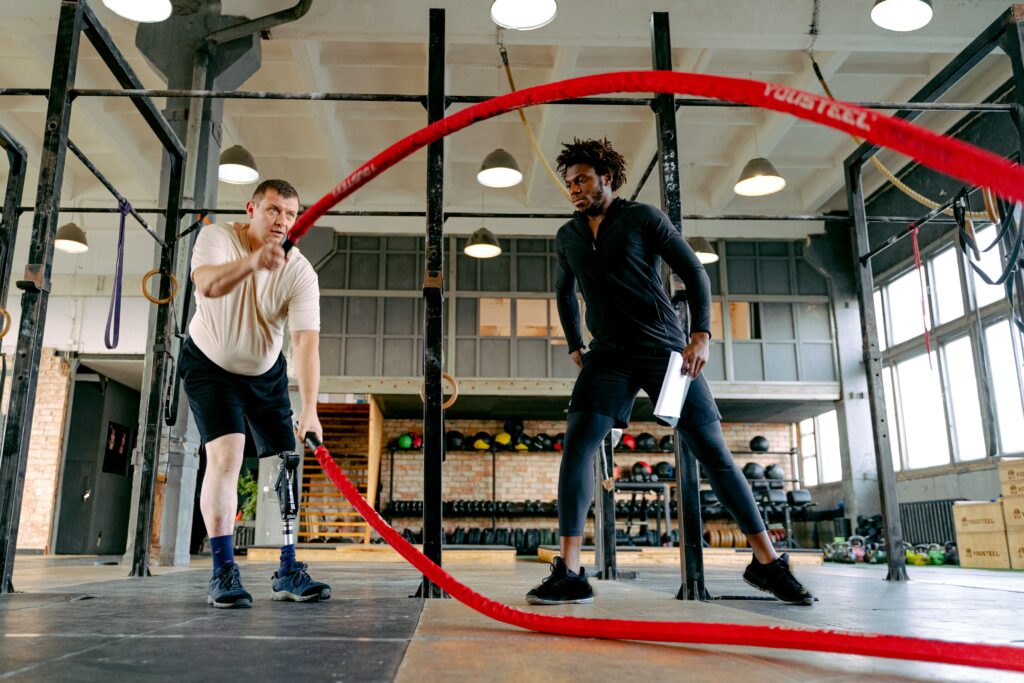 The Personal Learning Coach Model
The Professional and Executive Education unit at Rutgers–Camden recognized the similarities between wellness goals and career goals. They developed the equivalent of a Personal Trainer for skill acquisition and career advancement that they call a Personal Learning Coach (PLC). The PLC supports professionals and rising executives to achieve the same learning goals that will support their career success that a Personal Trainer does for one to achieve their wellness goals.
In addition to in-person, hybrid, and online cohort-based learning and on-site organizational learning, the Professional and Executive Education unit at Rutgers–Camden can provide truly individual learning through their PLC model.
To accommodate the busy schedules of professionals and rising executives, Rutgers­­–Camden's Professional and Executive Education powerful hybrid PLC model combines the flexible delivery of self-paced, online learning with that of a seasoned professional who serves as a learning and career guidant. The PLC mentors their learners through the successful completion of the program and sets them up to achieve their career aspirations.
How It Works
Effective professional learning is intensive, ongoing, focused on the content, and needs to resonate with the professional or rising executive's career aspirations. Knowledge and skill acquisition, combined with coaching, are highly effective in fostering meaningful learning. Coaching is provided by the PLC, a combined subject matter expert and industry-proven executive who draws upon many years of experience to explain the nuances of how the material can be applied in the field. The PLC connects the individual learner's current knowledge and career aspirations with the underlying material to create "learning with purpose"– delivered to the learner in a fashion that meets their schedule.
Most of Rutgers–Camden's Professional and Executive Education programs run from three months to six months. The PLC model combines a relevant practitioner-academic curriculum with personal, virtual appointments. To assure that an individual's learning supports where they are and where they want to go in their career, this personalized delivery model teams the learner up with a PLC who will meet virtually five (5) times during the program.
In the first session, the PLC will walk through the learner's goals for enrolling in the program – career switching, career advancement, or career enhancement – and set up a personalized learning plan that aligns with the learner's career plan.  Over the additional scheduled one-on-one virtual meetings, the PLC will discuss questions and homework assignments and connect the skill acquisition to the learner's job and career, thus ensuring the learner gets the most from the material presented and the coaching they receive from their PLC. The PLC will also provide insights they have gained through their many years of practicing the underlying discipline.
Testimonials
My experience with my Personal Learning Coach (PLC) was really great. They were the perfect person to be mentoring this course as they are super patient, kind, understanding and super relatable. I was nervous taking the course at first as I didn't know how I would be able to juggle everything I had going on. But my PLC was super responsive and helped me complete the course at my pace.
I really liked the convenience of the course structure. I took this course while searching for a job, landing a job, starting my new job, and planning my wedding. It was great that I could do the coursework at my own pace—working around all my other activities.
Audience
Given the personalized nature of the PLC model, these programs are ideal for both individuals and organizations. They are cost-effective and can lead to results that can be applied on the job right away.
For individuals looking to navigate a path for a career in a private company, non-profit, or government agency, these short duration programs can position them to get the interview or promotion that they envision as part of their career trajectory. For those individuals more inclined to take an entrepreneurial path, these programs can provide the necessary skills to build confidence in achieving their entrepreneurial dream.
For organizations, this approach can help their talent development arms meet the flexible learning needs of their employees. When combined with custom programs designed with a follow on self-paced component delivered prior to a new hire's employment, this is a cost-effective way to integrate new employees into the organization by delivering the skills most relevant, integrating them onto the team, and introducing them to the organization's culture. Offering this learning modality can not only support employee retention but can also support talent acquisition efforts as well.
Upon successful completion, learners will earn a credential to put on their resume that showcases their newly acquired skills from a trusted public institution serving the people, businesses, and government agencies in the state of New Jersey for over 250 years.
Rutgers is a brand associated with quality that instills confidence in learners and employers1.

1. Rutgers founding in 1766 puts it in the same esteemed class as the Ivy League colleges. Its decision to serve the needs of all learners as a public institution translates into the same quality as those that chose a private path that we now call "Ivies."