Overview
This program is designed for individual learners – it can also be customized for group delivery in your organization. Contact a learning consultant for more information.
Given the outsized role of healthcare expenditures in the US, position yourself for a career in a role that organizations are looking to fill that will reduce costs and increase efficiencies in healthcare delivery. Short duration, project-based courses led by a personal learning coach to help you support the fulfillment of your career goals. Upon completion, you will earn a credential to put on your resume, portfolio, and LinkedIn profile that showcases your newly acquired skills.
Purchasing Agent
Hospital Materials Coordinator
Inventory Manager
Logistics Manager
Logistics Analyst
Patient Flow Manager
Healthcare Distribution Manager
The Opportunity
There are numerous opportunities for careers in healthcare management. Healthcare represents 17% of the nation's GDP, and, as such, job growth is seeing an outsized surge in the need for qualified professionals to manage the operations associated with healthcare delivery. According to the Bureau of Labor Statistics, the job outlook for medical and healthcare managers expects a 32% increase between 2020 and 2030. Given the fact that supply chain management costs consistently rank as some of the largest expenses for healthcare and hospital systems, a key set of skills for healthcare managers is supply chain management. Supply chain management in healthcare involves obtaining resources, managing supplies, and delivering goods and services to providers and patients among the network of independent stakeholders, including manufacturers, insurance companies, hospitals, providers, group purchasing organizations, and several regulatory agencies. This program will acclimate you to the inter-related people and processes associated with how supply chain management works in the healthcare industry.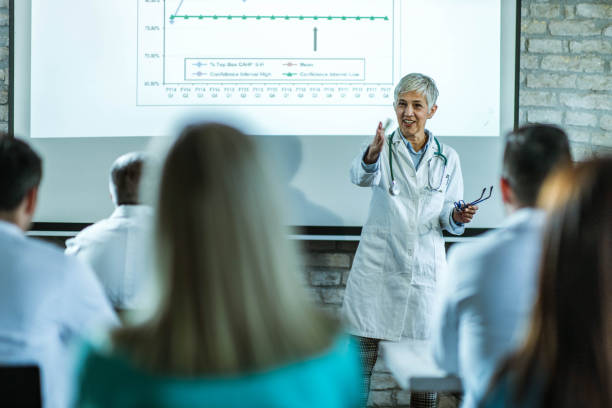 Program Benefits
You will become familiar with the range of supply chain issues facing health care institutions and learn some of the processes, practices, tools, tips, and techniques that organizations such as hospitals, health maintenance organizations, and professional practice groups are looking to implement that will improve their operating performance without sacrificing patient care. Applying state-of-the art supply chain management practices increases your value across a wide spectrum of healthcare organizations and enhances your career opportunities, as you can take a leadership role in reducing costs while maintaining healthcare delivery quality.
With the guidance of your Rutgers Personal Learning Coach, you will have the confidence and knowledge to make significant contributions to this critical, strategic function at your current employer or prospective employer.
What You Will Learn
The main goal of this certificate is to enable you to develop skills and competencies that employers are looking for in the following areas:
The Importance of the Healthcare Supply Chain
The Triple Bottom Line
Analyzing Processes
Service Delivery
Inventory Management
Managing Quality
Compliance
Information Systems
Lean Six Sigma
Project Management
Performance Metrics
Building a Culture of Healthcare SCM
Emerging Trends in Healthcare SCM
Given the busy schedules of professionals and rising executives, Rutgers has developed a powerful hybrid learning model that combines the flexible delivery of self-paced, online learning with that of a seasoned professional – a Personal Learning Coach – who serves as a learning and career guidant to mentor you through successful completion of your program and set you up for success to achieve your career aspirations.
Individualized support by industry experts: To assure your learning supports where you are and where you want to go in your career, our personalized delivery model teams you up with a learning coach who will meet with you virtually during the course of your study.  In your initial meeting, you will discuss your career objectives with your personal learning coach.  Over additional scheduled one-on-one virtual meetings they will discuss your questions, homework assignments, and connect your learning to your job and career to make sure you get the most from the material presented and maintain your focus on the learning goals you have set for yourself.   
Project Based: You will apply the concepts you learn in a project that you can draw upon as you interview for your new role.  Because the project simulates actual work duties of professionals in this field, the project offers you an opportunity to showcase the skills and competencies that employers are looking for in hiring and promoting professionals in their organizations.  
Flexibility: Learn on the days of the week and times of day that fit your schedule: E-Learning is available virtually 24/7/365. 
Who Should Attend
This course brings together the discipline of supply chain management with the healthcare field and ideal for early- to mid career professionals. As such, it is designed for two audiences: healthcare professionals who want to expand their career opportunities by learning about the role that supply chain management plays in the cost-effective delivery of quality healthcare and supply chain management practitioners who want to learn how to apply their knowledge of supply chain management specifically to the healthcare field.
This program has been approved by the New Jersey Department of Labor for workforce training grants. Funding may be available for those receiving unemployment benefits. Contact us for more information at or by completing the Request for Information.
Why Rutgers
Earn a credential to put on your resume that showcases your skills to support career success from a trusted public institution serving the people, businesses, and government agencies in the state of New Jersey for over 250 years.
Request Information