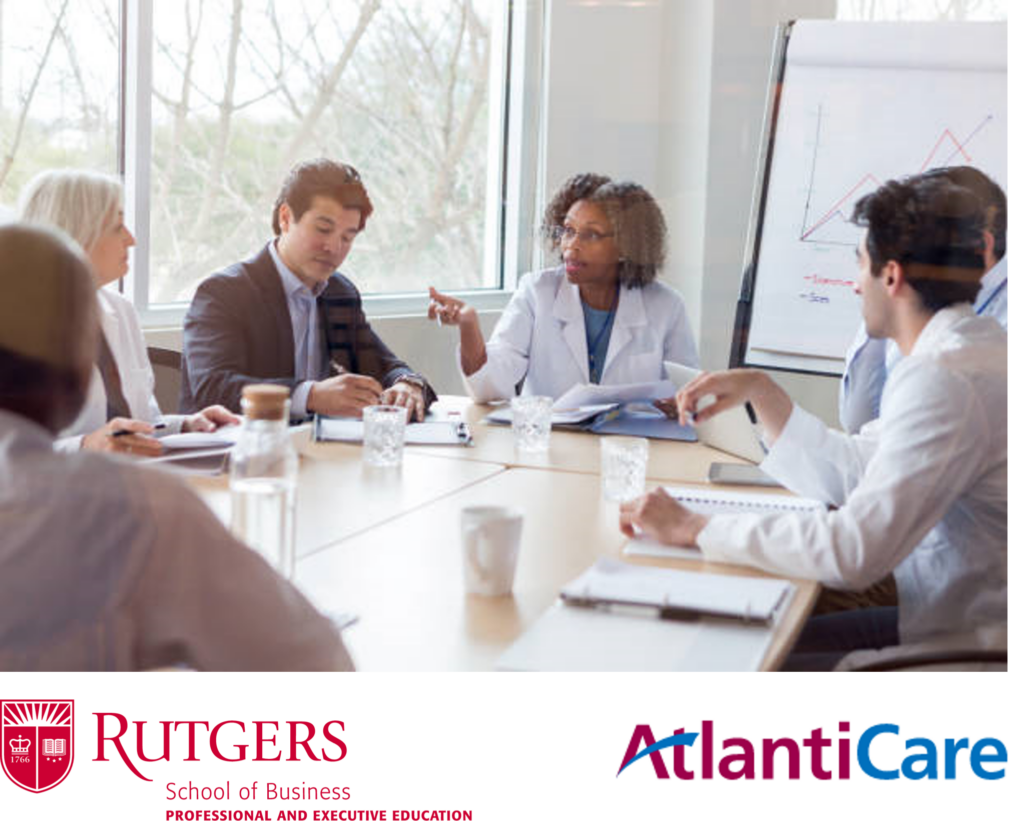 With ongoing pressures on the Healthcare industry – pandemic-related challenges, staff shrinkage and morale issues, regulatory and financial constraints – it can be more and more challenging to achieve the most important mission: delivering high quality patient care, safety, job satisfaction and financial performance. This is why integrating continuous process Improvement in the form of Lean Six Sigma (LSS) continues to be a priority at more and more Healthcare organizations – and employees at all levels with this skill set are in demand.
Your employer and other Healthcare institutions need professionals who can help them meet this demand – who are trained and knowledgeable in practicing continuous improvement through the LSS methodology.
The Rutgers-AtlantiCare Lean Six Sigma for Healthcare program is designed for practical application of the concepts, tools and strategies learned, and includes implementation of a real-world process improvement project, with the coaching of a Rutgers LSS expert throughout.
What you'll do
Participate interactively in real-time, virtual class sessions with your Rutgers Instructor and classmates.
Practice the tools and strategies you're learning in breakout sessions with your team, and individually with meaningful homework assignments, using real-world process challenges.
Once training is underway, select a process problem at work and turn it into a LSS project that you'll execute along with a small team of co-workers.
A Rutgers Black Belt/Master Black Belt will work with you one-on-one as your coach and mentor throughout your project.
Project commences with the submission and approval of a project charter and should be started in tandem with your coursework (it can can be started upon completion of training with prior approval). Work must commence within 3 months, and be completed within 6 months after commencement.
Six Sigma Organizational Improvement Healthcare Analyst

Healthcare Process Improvement Consultant
Healthcare Process Improvement Specialist
Operations Improvement Advisor
Process Engineer
Green Belt
Business Analyst
Continuous Improvement Specialist
Lean Transformation Practitioner
The Opportunity
Healthcare providers who practice LSS are seeing strong results and can expect to see concrete return on investment. Charles Hagood, president and founder of Healthcare Performance Partners, cites an example of a new facility that reduced the required square footage by 15 percent while increasing volumes, thereby improving deposit turnaround to 90 percent of all remittances within six hours and increasing the amount of CT scans per day by 22 percent without adding equipment or staff. He cites other examples of some mid-sized hospitals that have saved $10 million within two years by using a business management strategy informed by LSS concepts.
Program Benefits
The main goal of this certificate is to enable your organization and individual professionals to develop skills and competencies that exhibit proficiencies that have direct relevance in a healthcare context:
Learn concepts, strategies and tools used in Lean and in Six Sigma, and how to best use these together, to solve process- and quality problems
It introduces and provides practice in the D-M-A-I-C and the P-D-C-A processes and how to effectively lead your project team through these key steps
Master the soft skills also required in order to be an effective Green Belt and project leader
Explore how to apply these concepts, tools, techniques, and strategies in your organization
This program will give you the professional development, experience, and confidence to repeat your initial success in future projects
Valuable credential – once you've completed each component of this program, you'll earn these designations: Trained Lean Six Sigma Green Belt and Certified Lean Sigma Green Belt
With the classroom-based learning and guidance of your Rutgers Personal Learning Coach for project support, participants will have the confidence and knowledge to make significant contributions to this critical, strategic function in your organization. For individuals, this supports individual professional career growth. For organizations, providing this credential can be an important component in human capital acquisition and retention strategies.
Testimonials
I learned a great deal; the biggest takeaway will likely be how to properly set up a Green Belt project using the DMAIC Process and tools therein. Thank you for an excellent class.
… had a great learning experience despite it not being in person. Thanks to Instructor and classmates, I never felt uncomfortable asking questions. I feel that I now have the proper tools to solve problems at work. I will now be able to use a structured approach to solve root causes as opposed to simply correcting symptoms. Would I recommend this course? Yes. In fact, 6 co-workers that will be taking the course in August!
Participating in this training and learning the DMAIC methodology has provided the proper tools to truly engage in a work process improvement. I feel empowered. This was truly a positive experience. Thank you for sharing your knowledge, all the prep work, ideas and your experience. Looking forward to working with Rutgers throughout the Green Belt project process.
What You Will Learn
The main goal of this certificate is to enable you to develop skills and competencies that employers are looking for in the following areas:
Concepts, strategies and tools used in Lean and in Six Sigma with a focus on how they are practiced in a healthcare organization and how to best use these togethe to solve process and quality problems
The D-M-A-I-C and P-D-C-A processes and how to effectively lead your project team through these key steps
Soft skills also required in order to be an effective Green Belt
How to apply these concepts, tools, techniques, and strategies in your organization
Who Should Attend
This program is designed for healthcare professionals (or those seeking to move into healthcare) who wish to acquire formal knowledge and skills in the LSS methodology, plan to incorporate LSS into their work, and wish to learn how to lead LSS projects or participate as effective LSS team members. This program is also suitable and a gateway for those considering being full-time process-improvement practitioners or who will manage others practicing LSS in their organization.
Why Rutgers
Earn a credential to put on your resume that showcases your skills to support career success from a trusted public institution serving the people, businesses, and government agencies in the state of New Jersey for over 250 years.